Prison supports Team England weightlifter
April 06, 2018
HMP Forest Bank is proud to sponsor Alex Collier, who will be representing England in the forthcoming Commonwealth Games. A seven-time British champion, Alex will be making his games debut on Australia's Gold Coast in April.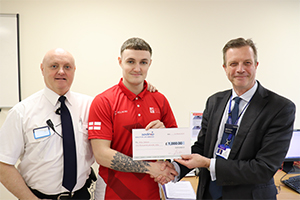 Alex's father Keith is a Prison Custody Officer at the Salford prison, operated by Sodexo, and approached the company after he received the news that his son would be competing in the games.
During training, Alex has to stick to a strict, controlled diet in order to make sure he has the right quality and quantity of energy for his sport.
Alex said: "This sponsorship will help with my nutrition, various supplements and hopefully some kit too. It will also help with transport, medical bills and treatments I need for recovery.
"Thanks to Sodexo for giving me this sponsorship and helping out during what is a hard time for the Commonwealth Games. It's not often weightlifters receive sponsorship so I'm really grateful."
"I have visited the prison and I am impressed by the facilities and how it is run. It doesn't look like how I imagined a prison to be. Everyone has been very nice to me and I've been impressed by how the residents conduct themselves."
His dad Keith said: "A big thank you to the company for supporting my son, it's a very proud moment for me and my family."
Once he returns from the Gold Coast, the prison will look to work with Alex to deliver a seminar to residents about his sport. HMP Forest Bank has its own fully operational gym, which provides residents with the opportunity to gain qualifications in instructing physical activity, improving their chances of leading law-abiding lives in the community when released.
Alex will be competing on Saturday 7 April in the men's 85kg final.