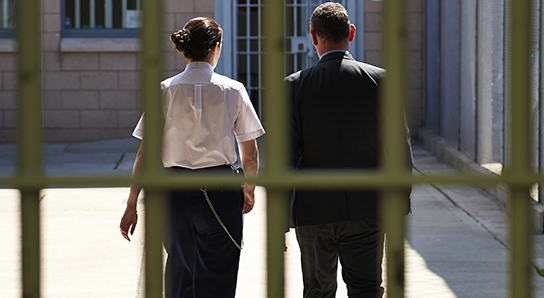 The environment in which all visits are held is important and to ensure they are stress free experiences, every effort is made to explain procedures clearly and reasons for decisions clarified. While security is a major consideration in relation to visits a relaxed atmosphere prevails when the clearly specified rules of conduct and behaviour are observed by residents and their visitors.
Remember:
Try to arrive 20 minutes before the time of your visit. If you need to cancel or if you will be late, call ahead and let us know; we will do our best to accommodate changes.
HMP Forest Bank is a no-smoking site. No tobacco products or smoking equipment will be allowed on your visit.
Dress appropriately for entering the prison. HMP Forest Bank staff will use their discretion to uphold the mutual respect, safety and security of people in the establishment and may refuse entry to people who are dressed in a way that would put these principles at risk.
Bring two forms of identification when visiting the prison. This should be one primary form of photographic I.D. such as a passport or driving licence, and another secondary form of I.D. as a proof of address, such as a recent utility bill or other official paperwork - this must be dated within the last 3 months.
If you wish to bring property for the person you are visiting, the resident must book this at least 24 hours prior to your visit. Please be aware that the property desk closes at 16:30.
Children and babies may be searched as well as adults. This will be done in a professional and careful manner.
You will require a £1 coin in order to use a locker. Unfortunately, staff will not be able to issue change.
Dress code (from 9 September 2018):
No see through, revealing clothing or crop tops which reveal the stomach;

No ripped jeans or damaged clothing;

Skirts, dresses and shorts must be no higher than just above the knee;

Women must ensure their top garment covers their cleavage;

No clothing bearing slogans that are deemed to be racist, insulting or derogatory;

No uniforms, (except children in school uniform and police officers on a legal visit);

No watches;

Jewellery is best kept to a minimum (earrings to be studs / small hoops only);

No knee length boots (over the knee);

No football slogan clothing

No caps;

No sunglasses;

No paperwork or photographs to be handed over on a visit;

No work boots;

No ponchos or capes.
Your cooperation is greatly appreciated in this matter. Failure to adhere to the policy may result in admittance being refused.
What to expect
Guidelines of what to expect when visiting Forest Bank prison.
Heading into the visits centre, you'll be greeted by our colleagues on the front desk.
They'll ask for your name, check your booking and look at your identification.
They will take your picture and fingerprint biometric for identification purposes.
This is a requirement for all visitors to the prison.

All official visitors will be subject to a level 'B' rub down search prior to their visit.

All social visitors will be subject to a level 'A' rub down search prior to their visit. This includes before returning to the visits hall, and after using the amenities.

Visitors will be chosen at random to take an Ion scan.

A positive outcome will result in either a closed visit for all the visitors named on the visiting order, or an option to rebook the visit.
Any visitors with security intelligence may be targeted.


Visitors will walk through a metal detector portal.

If there is an indication, the staff must be able to identify what is causing the indication.
If the item cannot be identified then the visit will be refused.


Visitors may at times be subject to a search by the police.

Refusal to be searched will result in no entry and any action the police wish to take. Any articles recovered may result in the police being called and prosecution of visitors.
Types of visit
Details about the social (friends and family), legal and official (residents who do not receive social visits) visits allowed at Forest Bank.
Social visits are for friends and family members of residents at HMP Forest Bank. Residents can book their own visits using technology available on the wing.

Legal visits are to be booked at least 24 hours before requested date and time either by fax (0161 925 7031) or e-mail (fb.booked@sodexojusticeservices.com) so we can provide a confirmation letter and ensure that the visitor is from a legitimate company.

Telephone requests will be refused.
To bring in equipment such as laptops, at least 24 hours' notice is required and authorisation must be granted by the Head of Security.
All other personal items, such as mobile phone and car keys, are to be left in a locker at the visits centre.


Official visits are for residents who do not receive social visits. Whether remand or convicted, all residents are entitled to receive official visits.

These visitors are volunteers. If a person in custody wishes to receive official visits, they can contact a member of the Chaplaincy team who will then organise a visit. The visitor will then book in the normal way.

No visiting order is required for these visits; a special order will be issued at the visits centre.

Convicted residents are entitled to one official visit per week. There is no limit for those on remand.
Entitlements
At HMP Forest Bank, we deliver the Incentives and Earned Privileges (IEP) scheme, meaning that residents who work towards their own rehabilitation, behave well and help others will earn additional privileges.
This Incentives and Earned Privileges (IEP) scheme has four levels: Entry, Basic, Standard and Enhanced, corresponding with the level of privileges a person has earned.
Such privileges include the amount of visits a person may receive while in custody. There are different entitlements for remand and convicted residents of HMP Forest Bank.
Convicted
Rules related to basic, standard and enhanced regime visits.
If a resident is living under basic regime, he will be entitled to two visits for up to 60 minutes in length, every 28 days.
Those on standard regime may have one visit per week for up to 2 hours duration, one visit per week for up to 60 minutes if taken after 4:30pm, or one visit at a weekend for up to 60 minutes.
Residents on enhanced regime will receive one extra visit per month. This visit can last up to 60 minutes, and must be taken either between 2.30pm and 6.30pm (Tuesday to Friday) or between 1pm and 3.30pm at the weekend. This is in addition to their standard entitlement.
Remand visits
Guidance for those visiting residents who are remanded in custody at HMP Forest Bank.
Residents who are remanded in custody at HMP Forest Bank and on the basic regime may receive one visit each day for up to 30 minutes, or one visit per week for up to 90 minutes. Both of these options are to be taken before 4:30pm.
Those on standard and enhanced regimes may receive one visit each day for up to 30 minutes if taken before 4:30pm, one visit each day for up to 60 minutes if taken after 4:30pm, one visit per week for up to 2 hours if taken between 1pm and 4:30pm during the week, one weekly visit at the weekend for up to 60 minutes.
Email a resident
Contacting a loved one in custody is easy and inexpensive using the website 'Email a Prisoner'
Email a Prisoner offers a quick, efficient, secure alternative method of communication for residents their families, friends, legal professionals and related organisations.
The website allows you to write an email, press 'send' and sit back in the knowledge the email will be delivered safely, securely & ready for delivery to the prison of your choice. Your message is printed inside the prison and will be included in the daily mail delivery. This costs 40p per message.
For any queries about the service, please contact Email a Prisoner directly,.
Assisted Prison Visits
If you visit a family member, partner or someone who doesn't get other visitors you might be able to get help paying for travel to the prison, somewhere to stay overnight and meals.
To qualify for assisted help you must be receiving certain benefits or have a health certificate.
If you're taking a child with you or someone to help you (for example because you're disabled) you might also be able to get help paying for their visit.
For more information and to apply, please visit the website for the Assisted Prison Visits Scheme.
Send money to a resident
If you wish to send money to a resident at HMP Forest Bank, we recommend that you use Secure Payment Services.
Secure Payment Services enables the sender to deposit monies directly into the resident's bank account so funds can be transferred quickly and made available to the recipient. This is a cheaper option than postal orders, cheques or cash and clearance time is kept to a minimum.
You can use this service by registering at www.secure-payment-services.com.
Cheques or postal orders
Cheques and postal orders should be made payable to: "The Governor" or "Sodexo". They must include:
The resident's name
The resident's prison number
The sender's name and address
We transfer private cash to resident accounts at midnight on Wednesdays.
Cash can be sent but it is at the sender's own risk.
How we collect and use your data
COLLECTION OF DATA
In order to facilitate your visit to one of our prisons and to ensure that we deliver appropriate levels of security and safety and prevent crime, for identification purposes we shall collect your name, date of birth, address, a biometric template of your fingerprint and a photograph. A series of reference points from a finger print are collected, allowing a unique identification pattern. We do not collect or hold actual fingerprints.
Our prisons operate CCTV and staff may wear Body Worn Video Recording Equipment. We do not collect biometric readings or photographs of children under 16, however with the use of CCTV, images may routinely be captured.
DATA SHARING
We will only share your information with a third party where there is a legal obligation to do so.
RIGHTS OF ACCESS, CORRECTION, ERASURE AND RESTRICTION
You have legal rights in connection with personal information. Under certain circumstances, by law you have the right to:
Request access to your personal information (commonly known as a "data subject access request"). This enables you to receive a copy of the personal information we hold about you and to check that we are lawfully processing it.
Request correction of the personal information that we hold about you. This enables you to have any incomplete or inaccurate information we hold about you corrected.
Request erasure of your personal information. This enables you to ask us to delete or remove personal information where there is no good reason for us continuing to process it. You also have the right to ask us to delete or remove your personal information where you have exercised your right to object to processing.
Object to processing of your personal information by us or on our behalf in certain situations.
Request the restriction of processing of your personal information. This enables you to ask us to suspend the processing of personal information about you, for example if you want us to establish its accuracy or the reason for processing it.
DATA RETENTION
We keep personal data in accordance with our clients' and Sodexo's retention procedures. These retention periods depend on the nature of the information (e.g. we apply different retention periods to different type of information such as CCTV and your visitor record), and may be subject to change.
If you have any questions or concerns about how long we retain your personal data, please contact the Data Protection Officer using the details below.
FURTHER ADVICE / GUIDANCE
To exercise your rights, you can contact us by writing to us at the following address: dataprotection.ukandie@sodexo.com or email the Global Data Protection Office at the following email address: dpo.group@sodexo.com stating your surname, first name and the reason for your request. We will most likely ask you for additional information in order to identify you and to enable us to deal with your request
You also have the right to contact the Information Commissioner's Office and file a complaint. (https://ico.org.uk/concerns/)