Kickstart-ing careers at HMP Forest Bank
June 07, 2021
Sodexo supports government employment scheme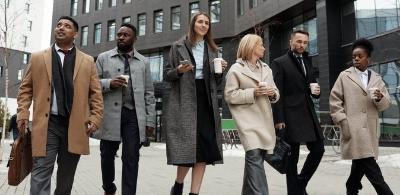 HMP Forest Bank is participating in the UK Government's Kickstart scheme, which aims to help young people struggling to find employment in the wake of the Coronavirus (Covid-19) pandemic.
The Kickstart scheme provides funding to create new six-month job placements for 16 to 24-year-olds on Universal Credit who are at risk of long-term unemployment.
Figures from the Office of National Statistics published in April this year show that the unemployment rates are currently at 4.9%, which is 0.9 percentage points higher than a year earlier. The under 25s have been one of the groups most impacted by the pandemic.
HMP Forest Bank, operated by Sodexo Justice Services currently employs two young people via the Kickstart scheme in HR and finance placements. A third opportunity with the learning and development team is currently under review.
Suzy Read, Learning & Development Manager from Sodexo's central apprenticeship team, has been leading the organisation's involvement in the programme. She commented: "At Sodexo, we are committed to giving people chance to develop and grow, but also to giving back to local communities, and the Kickstart scheme provides a unique opportunity to do both.
"For us as an organisation, we are able to create a diverse range of job opportunities that meet the wide-ranging needs and demands of our business segments.
"It also enables us to give young people in the communities we serve a chance to gain employment and gain new skills through on-the-job training as part of a structured learning programme. This will then help them get onto the career ladder and give their future employment prospects a boost."
Sodexo has so far created and filled twelve Kickstart placements, with a further 32 positions being advertised with Job Centre Plus, and Suzy is working with colleagues across the business to identify further opportunities.
"The recruits we've taken on have largely been recent graduates who have struggled to find work and they have been open to trying new opportunities which may not be in line with the career choice they envisaged after leaving university," Suzy continues.
"Sodexo's 12 Kickstarters we currently have on the programme have all really impressed their line managers with their energy and eagerness to make the most of the opportunities they've been given and to learn as much as they can during their time with us.
"We have developed a tailored learning programme for the Kickstarters, bringing them together on a weekly basis to learn from different subject matter experts in our business on topics such as employability skills and CV development that will help them once their placements with us have ended.
"They have been a real boost to the teams they are working with, and we are excited about making further placements available across a wide range of roles in the business."
Anwen Rockley is one of the Kickstart recruits and has been working at HMP Forest Bank since March 2021. Having completed a degree in Philosophy, Ethics and Religion at Leeds University, she heard about Kickstart scheme through her Jobcentre Plus Work Coach and applied for the role of HR Administrator with HMP Forest Bank.
"I'm currently half-way through my six-month placement at HMP Forest Bank and while working in HR has been a completely new challenge, I'm really enjoying my time here." said Anwen.
"The Kickstart scheme is a great opportunity for me to develop my skillset and gain experience of working within a busy and exciting company such as Sodexo. I've received a very warm welcome at Forest Bank, as well as from colleagues across the wider business.
"The opportunity to meet and get to know other Kickstarters has also been brilliant. I really value the opportunity I've been given through the scheme to develop my career and I feel I'm getting a lot out of the role."
Find out more about current Sodexo Kickstart roles here: https://www.sodexojobs.co.uk/
Potential candidates can apply for Sodexo Kickstart roles via their work coach at their local job centre.
Find out more how Sodexo encourages professional development at work on the careers section of the website