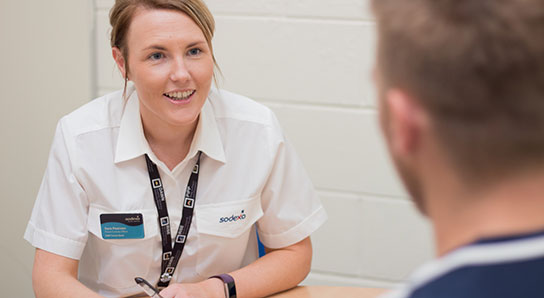 HMP Forest Bank is a safe and decent environment and is an essential foundation for a supportive and rehabilitative culture that motivates and enables individuals to make positive changes to their lives.

Seven pathways for reducing reoffending
We deliver excellent offender management services using a wealth of experience and evidence based interventions. The seven pathways for reducing reoffending that we employ have been established for more than a decade and were developed by the government's Social Exclusion Unit, which researched the reasons for re-offending after release from prison:
Accommodation
Attitudes, thinking and behaviour
Children and family
Drugs and alcohol
Education, training and employment
Finance, benefit and debt
Health
Rehabilitative and resettlement culture
We have used this experience to develop a rehabilitative and resettlement culture throughout the prison so that opportunities for all offenders to change their behaviour and reduce future offending are encouraged from the first day of custody.
This allows opportunities for residents to take responsibility for their own rehabilitation and encourages them and their families to engage with the resettlement services available to improve their wellbeing and desist from future criminality.
Successful partnerships
HMP Forest Bank maintains successful partnerships across the seven pathways for reoffending:
Bury One Recovery partner
In 2014, Forest Bank was awarded a 3-year contract as a Bury One Recovery partner. This innovative model was the first of its kind in the country, and offers offenders the added value of working with the same staff from arrest and back into the community.
We deliver drug and alcohol recovery-focused interventions for current and former offenders in prisons, the magistrates court, police station and various community settings. Our community teams provide support, encourage engagement and provide access to better life opportunities.
Oldham
In 2015 after the success of the Bury model, a 12-month contract was awarded to deliver a similar model in Oldham. Service delivery in these areas has gone from strength to strength, with the dedication and hard work of our staff resulting in the contract being extended for a further two years.
Through the Gate (Gateway) project
Similarly, our community staff in Bury have been an intrinsic part of the success of the Through the Gate (Gateway) project. This Adullam Housing-led project has been highly praised by local counsellors and the then interim mayor Tony Lloyd, who after a visit to the project stated: "It is clear to me the value of having the right agencies involved to support ex-prisoners with every aspect of their life including housing, training, mental well-being and family life."
Adullam Housing state that the success of the Gateway project would not have been possible without the "excellent and inspirational partnership working with the Bury Community Recovery Team".