How to send in Property to a Prisoner
.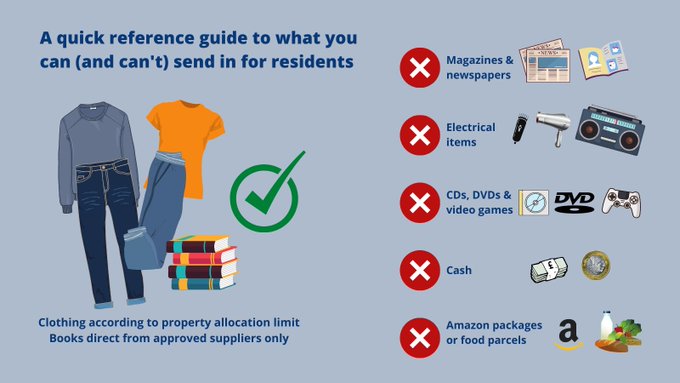 The prisoner's property is to be booked in at the same time as the visit being booked, subject to entitlements.
Prisoners have a 28 day window from reception date in which property can be handed in (1 drop off only). If a prisoner does not receive visits, an application to have property sent via post must be completed with the Reception Senior Prison Custody Officer (SPCO). This is to be completed with sufficient time so that the application does not exceed the property cut-off date.
After a prisoner has had an item in his possession for 6 months he is then entitled to exchange it using the catalogue available on each unit. If an item has been damaged or no longer fits, or has been lost or stolen then he can apply to the Reception SPCO to exchange it using the appropriate form.
Property Entitlement:
15 tops (vests, t-shirts, jumpers)
1 jacket (no hood)
9 bottoms
3 shorts
7 boxers
7 socks
7 vests
3 pairs of footwear
1 pair of slippers
2 pairs of flip flops
1 watch (not greater than £50 in value and not a copy or digital)
10 CDs (originals)
No hoods, football or rugby emblems, yellow or camouflage clothing is allowed. Any items that officers deem inappropriate with offensive material or logos or resembles staff uniform will not be accepted, this includes shirts with collars and trousers (excludes court clothes).
Prisoners who are enhanced will also be able to have:
1 dressing gown
2 sets of PJs
1 rug (6'x 2' only)
1 board game
10 extra CDs (originals)
Handing Out items on Visits
Requests for stored property/items to be handed out on visits must be submitted to reception staff only. Reception will consider the request and endorse the application with the outcome. Applications must state the date of the intended visit and the name and address of the visitor collecting the item. The item will be delivered to the visitors centre ready for collection.