'Reducing Reoffending Accelerator programme'
April 13, 2022
In Autumn 2021, HMP Forest Bank became one of sixteen prisons across England and Wales to implement the 'Reducing Reoffending Accelerator programme'.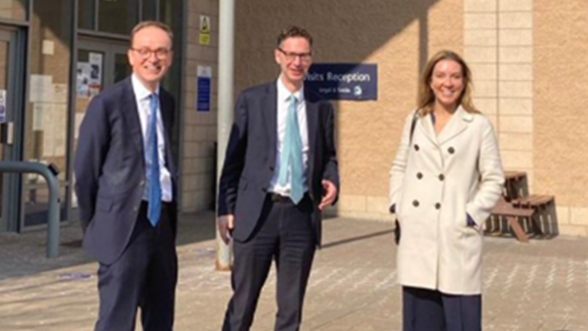 Focusing on three priority delivery areas; education, employment and accommodation and health and substance misuse, the programme supports the work of the Government crime and justice taskforce in seeking to design, implement and test new ways of improving the support offered to prison leavers.
A key element of the programme at Forest Bank focuses on providing leavers with secure accommodation and employment from the point of release giving them the opportunity to desist from future criminality and focus on rebuilding their lives in the community.
In March 2022, HMP Forest Bank was identified as one of the prisons demonstrating best practice in the delivery of the 'Accelerator' programme to the men in its care.
Recognition of this work resulted in the prison hosting a joint visit by the permanent secretaries of the Ministry of Justice, the Department for Work & Pensions and Department for Levelling Up, Housing and Communities.
Post visit, Antonia Romeo, Permanent Secretary for the Ministry of Justice said: "It was brilliant to follow first-hand the journey a prison leaver takes through the system and discuss some of the challenges faced.
"This work is an excellent example of collaborative working across agencies and organisations."
HMP Forest Bank Director, Jonathan French said: "It was a privilege to welcome the Permanent Secretaries to Forest Bank. The fact that three different Government departments were represented demonstrates the importance of multi-agency partnership working in the support of prison leavers and I'm delighted that we were able to highlight the excellent integrated work being delivered by the resettlement team and partner agencies across the Greater Manchester region.
"The successful resettlement of prison leavers back into the community is a core priority for Forest Bank and it is essential that we continue to build on the success of the current programme and support those in our care and the communities we serve."